Google celebrates the 80th birthday of Park Wan-suh, the South Korean best known female writer.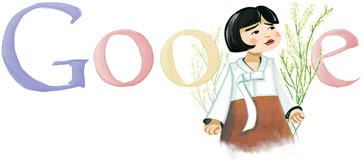 Top 5 facts about Park Wan-suh:

1. She was born on October 20, 1931 in Gaepung-gun, Gyeonggi-do (now in North Korea).
2. Park entered Seoul National University, the most prestigious in Korea, but dropped out almost immediately after attending classes due to the outbreak of the Korean War and the death of her brother.
3. During the war, Park was separated from her mother and elder brother by the North Korea army, which moved them to North Korea
4. Park published her first work, The Naked Tree, in 1970, when she was 40. Her oeuvre quickly grew however and as of 2007 she had written fifteen novels, and 10 short story collections.
5. She lived in the village of Achui, in Guri, outside Seoul until her death. Park died on the morning of January 22, 2011, suffering from cancer.

(via Wikipedia)